Hello,
Maya Soleil is the group led by my good friend keyboardist Rob Pastorak. Maya Soleil features traditional African songs and dance, and new compositions that fuse African and jazz. I have seen this band many, many times. The show is dynamite. In addition to Maya Soleil, Rob is now hosting a Sunday night African Musician Showcase at the new Hidmo Restaurant. You can find out a lot about what's happening with African Music in Seattle just by going to Rob's shows. His website is www.mayasoleil.com.
They are also working on the construction of a new music studio, Maya Soleil Productions, which will be completed sometime this year, I think. Here's the scoop from "the Robster":
UPCOMING SHOWS - Maya Soleil - April and May 2005
Attention: Port Townsend, Seattle, Kitsap Peninsula, and Port Angeles, WA
Shows listed below are classified as our Pan-African acoustic group, Maya Soleil Traditions, our electric ensemble, Maya Soleil Afro-World Fusion, and our new ensemble Sol Afrique. All events are smoke-free.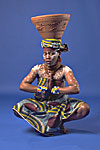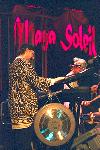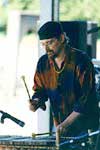 APRIL
***************************
Friday, April 15, 8:30-11:00 pm
Port Townsend, WA
Maya Soleil Afro-World Fusion
with Special Guest Naby Camara, master balafonist from Guinea
at The Upstage
923 Washington St.
Admission $10 per person or $12 for preferred dinner seating ($2 discount for Port Townsend residents)
A great club with enough room for a little dancing!
(360) 385-2216
www.upstagerestaurant.com
***************************************
Saturday, April 16, 5:30-6:15 pm
Seattle, WA
Maya Soleil Traditions
featuring Lora-Chiorah Dye (Zimbabwe), Kofi Anang (Ghana), Naby Camara (Guinea), and more
University of Washington Afro-Caribbean Night
Kane Hall, UW campus 5-8 pm event with some other great bands
Admission $4 students, $5 general
http://depts.washington.edu/sao/calendar.php?show=month&year=2005&month=4&day=1
*******************************************
Thursday, April 21, approx 8 pm (event 7-9 pm)
Seattle, WA
Maya Soleil Traditions
featuring Lora-Chiorah Dye (Zimbabwe), Kofi Anang (Ghana), Naby Camara (Guinea), and more
Many Voices, One Song: a Musical Celebration of Diversity
Multifaith Works Tenth Anniversary Benefit Concert
Seattle First Baptist Church
1111 Harvard Avenue, First Hill
Tickets $15 in advance, $20 at the door
For the tenth year in a row, Many Voices, One Song will capture the artistry and energy of performers from diverse backgrounds. For tickets and information, please contact Multifaith Works at 206.324.1520 x303 or info@multifaith.org.
http://www.multifaith.org/New/newstuff.html
***********************************************
Friday, April 29, 10:30 am - 12:30 pm
Des Moines, WA
Maya Soleil Afro-World Fusion
Beyond and Between: Intersection of Identities (multicultural event)
Highline Community College
Student Union Building
2400 S. 240th St.
Des Moines, WA
Free Admission
**************************************************
HIMO Eritrean Restaurant African Music Sunday Nights
African Music Night every Sunday (8-10 pm) at HIDMO Eritrean Restaurant in Seattle (Detailed schedule below)
Free Admission (donations welcome to help support this series)
Nonsmoking venue
Live African music and east African cuisine
LOCATION:
HIDMO Eritrean Restaurant
2000 S. Jackson St
Seattle, WA
(206) 329-1534
April 17 = Zanga Zanga
Music of Zimbabwe, with vocals, mbira, marimba, hosho, guitars, bass,
drums, and percussion. Members from Zimbabwe, the Ukraine, Israel, and the
USA, featuring Loveletter Senth (Zimbabwe).
www.seanet.com/~bolen/zanga.html
April 24 = Kalass
West African/World Fusion featuring Ganga Clamoungou on guitar and vocals
backed by a spirited electric band. Kalass blemds African pop with other
contemporary African world music styles like Zouk, Soca, Jazz, R&B and Funk.
http://www.kalass.com/Kalass/
May 1 = Sol Afrique
Music and dance of West Africa featuring Guillaume Mpacko (Camaroon) on
vocals and guitar, Kofi Anang (Ghana) on vocals, djembe, talking drum, and
kalimba, Lennox Holness (Jamaica) on bass guitar, Alma Anang (USA) on
African persussion and dance, and Rob Pastorok (USA) on balafon, calabash,
and talking drum.
The Robster
Maya Soleil Studio
Woodinville, WA , USA
(425) 486-4063 Email: mayasoleil@mindspring.com
Web site: http://www.mayasoleil.com